Abbraccia un momento di SlowLife
con
SlowLife Meditative Yoga
In questa lezione di "Yoga Dolce Meditativo" troverete uno spazio rilassante, in grado di calmare la mente e di farvi scoprire come "abbracciare" la SlowLife nella vita quotidiana.
In un periodo in cui lo smart working limita gli spostamenti e i movimenti, questa esperienza risulta particolarmente utile a chi prova tensioni muscolari al collo, alla schiena, alle spalle, a chi passa molto tempo davanti al computer, al chiuso, magari mangiando quello che capita e senza fare esercizio fisico.
Per supportare la tua pratica, la mia proposta è quella di partecipare a sessioni di SlowLife Yoga unendoti a una comunità di persone che la pensano allo stesso modo, provenienti da tutto il mondo.
Durante la sessione impareremo a:
– allentare le tensioni fisiche
– assumere la postura ottimale
– rafforzare la propria energia interna
– affrontare e gestire nel modo migliore i nostri impegni quotidiani
– alimentarsi in modo salutare
– migliorare la qualità del sonno!
Al termine della sessione avrete appreso delle preziose tecniche basate sulla "lentezza", facili da applicare anche da soli e in qualunque momento della vita quotidiana.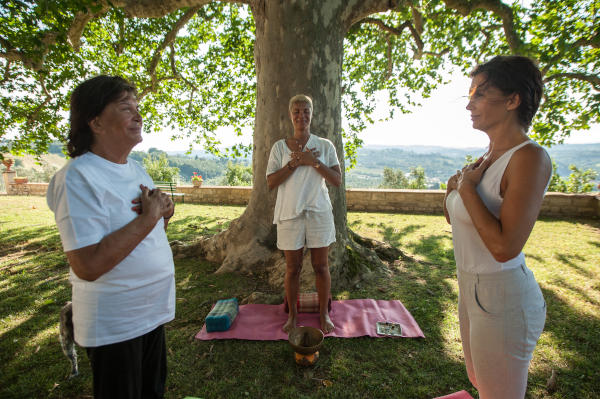 Cosa faremo: SlowLife Yoga – Scegli fra Yoga Dolce Meditativo,  Slow Power Yoga (yoga dolce dinamico),  SlowLife Yoga per lo Smart Working, Yoga Ormonale o Yoga Nidra (per migliorare la qualità del sonno)
Da aprile ad agosto sessioni di 30 minuti
Da settembre a marzo sessioni di 75 minuti
Come: Con un collegamento tramite Zoom
Quando: Al mattino o alla sera, vedi il calendario settimanale
In che lingua: scegli la lingua: inglese, francese, italiano
L'esposizione è fatta in modo lento e chiaro, quindi anche per chi studia una lingua straniera questa è un'ottima opportunità di apprendimento in un contesto pratico.
Di che cosa abbiamo bisogno: vestiti comodi, tappettino di yoga, una coperta (un foulard/sciarpa per le sessioni di Yoga Nidra)
Prenotazione: si prega di confermare la prenotazione almeno 12 ore prima dell'orario di inizio della sessione
Email: info@slowlifecoaching.com o info@slowlifeyoga.com
WhatsApp /Signal: +39 333 387 94 89
Gruppo – Una sessione di 75 minuti: 25 euro
Gruppo – Pacchetto di 4 sessioni di 75 minuti: 80 euro
Gruppo – Pacchetto di 10 sessioni di 75 minuti: 150 euro
Una sessione individuale: 80 euro
Eunice
I gifted this experience to my husband so that he can wind down as we started the holidays. Sandrine asked many questions and personalized the experience for him. He told me that he thoroughly enjoyed the experience. I highly recommend this to anyone who's looking to slow down and reconnect with themselves.
Sandra
Yogini Sandrine is observant, kind, encouraging and an excellent guide for a personalized yoga session. She made sure that I was comfortable with each posture, adding breath work and sound resonance for a restorative whole body-mind-spirit healing! I was both calm and energized afterwards. I respect Sandrine's dedication to compassionately helping us tune our bodies to our natural frequencies.
Katie
Sandrine was an amazing guide and her class left me relaxed, mentally clear and invigorated. It is wonderful what slow stretches with focus on the breath can do for a body. Four hours later and I am still feeling serene!
Matt
Sandrine provides an absolutely wonderful experience! She is professional, thoughtful, insightful and a highly experienced meditation guide. Her attention to personal detail is wonderful. She is very compassionate in her interactions. This experience included so many great ways to nurture your body and mind, including restorative yoga, sound healing and guided meditation. I would recommend this experience to everyone!
Lydia
This experience is absolutely perfect for anyone that wants to learn how to feel more focused, relaxed, and happy in your everyday life! I felt so good after my first Slow Life session that I booked another session the same week, and invited my friend to join. He absolutely loved it as well, even though he'd never done meditation before! Thank you so much Sandrine, we're forever grateful!
Hannah
Sandrine is such a gentle soul – I truly enjoyed my slow-down experience with her. My body, mind, and spirit all felt very nurtured after our session together!
Sara
I simply highly recommend such an experience with Sandrine ! I could really slow down and clear my mind during the session.